Summer in the UAE officially said "Adios!" and that means things are livelier again at parks. Ripe Market is back in Abu Dhabi and it is happening in  Umm Al Emarat Park (which means 'Mother of The Nation Park'; the Arabic terminologies translated as 'Umm' = mother, 'Al Emarat' = the nation). However, some find it quite a handful to pronounce and/or remember, so do not be surprised if it is still fondly called 'Mushrif Park'.
While the park is open from 8:00 AM to midnight everyday, Ripe Market is happening from 3:00 PM to 10:00 PM every Saturday only. As you enter the park, you would see from your left the stalls where organic products (locally produced in UAE) are being sold.
Other cutesy, fancy, trivial and sorts of products are available, too.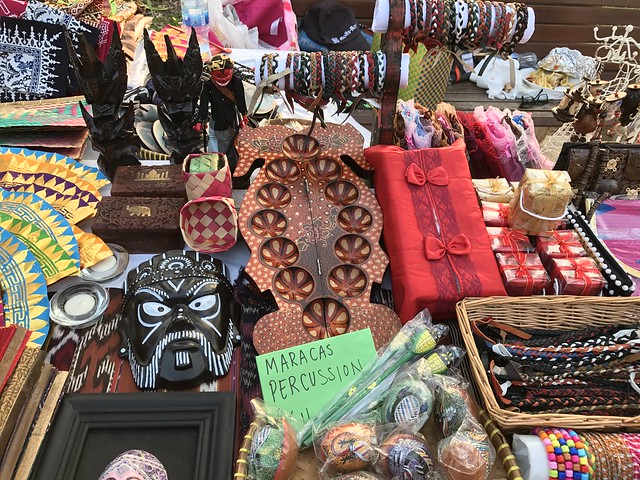 This is so far the only food truck (serves Latin America food) in the park at the moment. Expect a queue from 6:00 PM onwards. We tried their pelua beef on our first visit for this year, unfortunately, we were not too pleased.

But do not worry, there are other service providers to satisfy your hunger. Majority though serve sweets like crepes, pancakes and burgers. I understand that Ripe Market has been back three weekends ago. However, I hope they will take note of this as a key improvement point. Recently, we opted to take dinner at the food truck just outside the park (i.e. Salt).
Umm Al Emarat Park is huge. Even if there were plenty of visitors, it did not feel crowded because the different corners tend to cater to each one's needs. For example, there is mini zoo (i.e. supported by Emirates Park Zoo), Wisdom Garden (thumbs up for the name!), botanical garden, amphitheater, great lawn, promenade and more.
There is free yoga at 5:00 PM every Saturday. That is the amphitheater at the back.
Amphitheater at night. The fountain is quite a favorite by younger ones. Last Saturday, there were those who played on a bathing suit. I have been informed that occasionally this side serves as venue for open air cinema screening.
Promenade at night
Beautiful music in the air from 3:00 PM (approximately) until 8:00 PM. There were, so far, three guys who played the guitar (in shifts).
This is the Shade House.
You may explore the three floors/levels by taking the stairs or the lift/elevator.
It was windy when we visited. That added to a literally cool experience.
Apparently, the Shade House has at least 30 species of plants.
Aside from the physical exercise, you will be rewarded with a pleasant view when you go up.
Here is a tip, it is better to climb in time for the sunset. Taking photos tends to be better at the second level during sunset. Otherwise, the best view is from the highest/third level.
This is so far the best spot.
Umm Al Emarat Park is at the heart of 15th Street (between Airport Road and Karama Street), Abu Dhabi, UAE. It is opposite the charming Cafe Arabia. Contact number: +971 (0)2 666 9559. Click here if you wish to visit their website. Entrance fee is very reasonable, AED5 per person and can be used by the same person to re-enter during the same day. (Annual ticket is available at AED400 per person, as well as the loyalty card of AED100 which would entitle you to free three entrance tickets.) Park operating hours is from 8:00 AM to midnight. Pets are not allowed.